APPLY NOW
TO JOIN OUR NEXT COURSE
(
DATE TBC
)
90 Days To Stage Confidence
The #1 real time performance course and group coaching program to catapult your confidence, master your mindset and prepare you for all live and online performances.
HUGE

DISCOUNT

FOR

FIRST

15

APPLICANTS!!
Expert Industry Tuition

(

By Industry professional performance coach and 4 x #1 live recording artist)

8 Live Industry Professional

Masterclasses




(Includes holistic & bonus Masterclasses)

Weekly Group Coaching Sessions and Q&A's


Artist Spotlight Sessions


Video Critique and Analysis Sessions


Artist Well-Being Check-in

(After holistic masterclass)

Access To SRA Artist Community

Free Artist Bonuses
Masterclass Extra 'Captivating your audience on Camera' (For YouTube, Instagram, virtual shows and more).
VALUE £197


Holistic Masterclass

Artist well-being Vs career and life balance
VALUE £247
Huge Discount ££
for first 15 Applicants
VALUE £1000

Fast-track your career

This course has been designed from a formula developed over 25 years to fast-track your stage confidence and enhance your performance skills, equipping you with the skill-set and mindset to excel in your craft and stand out in your career by delivering captivating and professional virtual and live performances.



Holistic Approach

In all of our courses we place the emphasis on the person behind the performer, always acknowledging and supporting the individual and the undeniable connection between mind, body, emotion and performance.

if you want to..
increase your performer confidence on stage or on camera

transform your live and online shows

be able to connect confidently with your audience

break through your performance blocks

enjoy your performances rather than fear them

learn alongside a carefully selected group of like minded and supportive artists
be taught by an industry professional performance coach and a #1 live recording artist
gain more fans and keep them coming back
take your career to a new level
if..


self doubt, performance anxiety and/or stage fright are preventing you from performing your best
you often compare yourself to others
your inner critic takes over your thought patterns
being a perfectionist is holding you back
you're fed up of your performances being hit and miss
you are willing to commit 3 - 4 hours p/w, so you can unlock your true performance potential.
you want a proven formula to help you breakthrough your performer blocks, so you can step on stage and wow your audiences...every time!
Do you recognise yourself above?
If one or more of the above statements resonates with you, enrolling on this course will give you the formula you've been looking for to overcome your performance fears, master your mindset, connect with your audience and enjoy your performances.

Don't put off for another year the performer you could become in 90 days!


Catapult your confidence to the
next level!
Our students love what we do
'Life changing' / 'I've fallen in love with performing again' / 'Very kind atmosphere like a safe space'
The masterclass was extremely inspiring and enjoyable. Lucie is absolutely great. I learnt a lot and it will change my life.

DAVIDE ELARTURANA

I now feel that I can go on a stage feeling really confident and know what to do before I go on.

J.D
I can't recommend Lucie enough for any artist up and coming or established. Her coaching is cutting edge!

EVAN YIANGOU
(SParkin MC)

Why should I take this course?
Upgrade your skills and fast-track your way to becoming a pro-performer!

This 13 week online group coaching program has been designed for artists and performers who want to increase their performer confidence, enjoy and deliver pro-level shows, and are serious about taking their live and virtual performances to the next level.
Many performers have a great skill set in terms of their voice or instrument, but no matter how hard they try, performing in front of an audience doesn't seem to get any easier, in fact it can often become harder over time especially if fear and anxiety sets in. We believe that to be able to perform successfully, it is equally important to work on a performer's mindset as well as their skill set, supporting them to become aware of their thought processes alongside teaching them essential performance techniques to enhance their stage craft and stage confidence.
How would you feel if you could..
walk on any stage and perform with confidence?
look forward to all your performances rather than fear them?
learn how to let go and give a fantastic show to your audience rather than constantly worrying about making mistakes?
focus on your audience and leave self-doubt and your inner critic backstage?
believe in yourself and stop comparing yourself to others?
learn the formula to having successful gigs so you can stop leaving it to chance every time?
perform professionally and fearlessly like the artists and musicians you admire?
captivate and engage your audience all the way through your shows?
learn how to transform the energy in a venue?
attract more fans who want to keep coming back to see you play
Well this course can show you all of this and more. We understand that just because you may hope your performances will go well, doesn't necessarily mean they will, especially if you secretly believe that they won't. Can you really afford to leave your performances to chance, not knowing how to calm and channel your nerves or be able to step into the mindset of a professional performer? You don't have to anymore. We have developed a proven formula over 20 years that you can rely on. One that can take you from stage woe to stage pro, where you can experience confident and enjoyable performances every time. You will be taught a number of unique techniques that when implemented correctly can completely transform your performances into captivating, entertaining and memorable shows that you and your audience can enjoy and be proud of.
With our unique formula you will learn how to increase your stage confidence, command the stage, overcome your performance fears, let go of self-doubt, look forward to and enjoy your performances, stop comparing yourself to others, relate to and connect with your audience, master your performer's mindset, look after your well-being, increase your fan base and become more focused so you are able to fall in love with your craft again.
Lacking confidence and feeling uncomfortable on stage will not only hold you back from being an incredible and accomplished performer that audiences never forget (for the right reasons), but will also cost you in many ways. How much is it currently costing you in time, money, unsuccessful gigs, frustration and worry, not having a transformational formula? This course is a fast-track long term investment for yourself and your career. That is why we aim to take the pain out of the performance process, so you can get on stage and start to enjoy doing what you love so you can finally love what you do.
The course will be led by Lucie Burns, an Industry professional performance coach also known as 'Lazy Hammock,' a successful #1 artist, songwriter and music producer with tracks licensed to labels such as Sony BMG, Hed Kandi, Ministry of Sound and EMI. Lucie has coached thousands of performers spanning 25 years. She shares her extensive knowledge of being both a coach and a performer through her tried and tested formulas which work. Her unique method and way of training has been been called inspirational, relatable and life changing. She has featured on documentaries on both ITV and Ch4, preparing performers for upcoming live performances. She works in a holistic and compassionate way with artists, putting the person before the performer, understanding that for an artist to feel confident, relaxed and at ease, so too must the person. She relates easily to her students having walked their walk and understands the expectations, challenges and pressures of the industry and the toll it can take on a performer.
Don't miss this opportunity to learn how to become the confident and captivating performer you know you could be, who keeps their fans coming back time and time again.
Course Investment
:

£1997
-
For first 15 Applicants
- use promo code '
FIRST15
'
on application for
m
£2997
- Full Price
N.B You will be informed after applying and before payment, if you are one of the 'First 15
'
Lucie Burns
Lucie is the Founder of 'Stage Ready Artists' and 'Stage Ready Artists Academy.' She is an Industry leading Performance & Mindset Coach. She works holistically and intuitively with artists and performers with an emphasis on artist confidence and well-being, always focusing first on the person behind the performer and the undeniable connection between mind, body, emotion and performance.

Lucie is also known as the chart topping artist, song-writer, music producer and remixer 'Lazy Hammock,' who has hit the No.1 spot 4 times in the World Chill-Lounge Charts and has performed live all over the world. She has written and produced 10 albums and her tracks have been streamed millions of times. Her music is also licensed to TV (CBS), airlines, advertising companies and record labels including; Hed Kandi, Sony BMG, EMI and Ministry of Sound, and her tracks currently feature on over 3000 album compilations. She is also an author and host of 'The Singing Buddha Podcast.'

Lucie has coached thousands of performers spanning 25 years including vocalists, instrumentalists, musicians, rappers, bands, TV presenters, actors, public speakers, podcasters and social media influencers with her cutting edge and transformational method of coaching, courses and masterclasses. Her work has featured in documentaries on Ch4, BBC1 and LWT, and she has also worked in some of London's leading music colleges and performance companies including T.E.D (The Entertainment Department), B.I.M.M.Institute, Point Blank, Rockschool and CM Sounds in a variety of roles including; lecturer, performance coach, course leader, consultant, scholarship panelist, songwriter, facilitator, speaker and lead tutor, and has developed and delivered courses and masterclasses in performance, artist development, confidence & mindset, songwriting, artist well-being, overcoming blocks, mindfulness and more.

Lucie looks forward to sharing her vast experience and love of performance through her unique and inspiring courses, so that all performers can have the opportunity to unlock their full performer potential, transform their performances, connect with their audience and finally let go of the fear and self doubt that has held them back for so long, so they can step on stage and shine, doing what they love and truly loving what they do.


"The single best investment you can make is in yourself"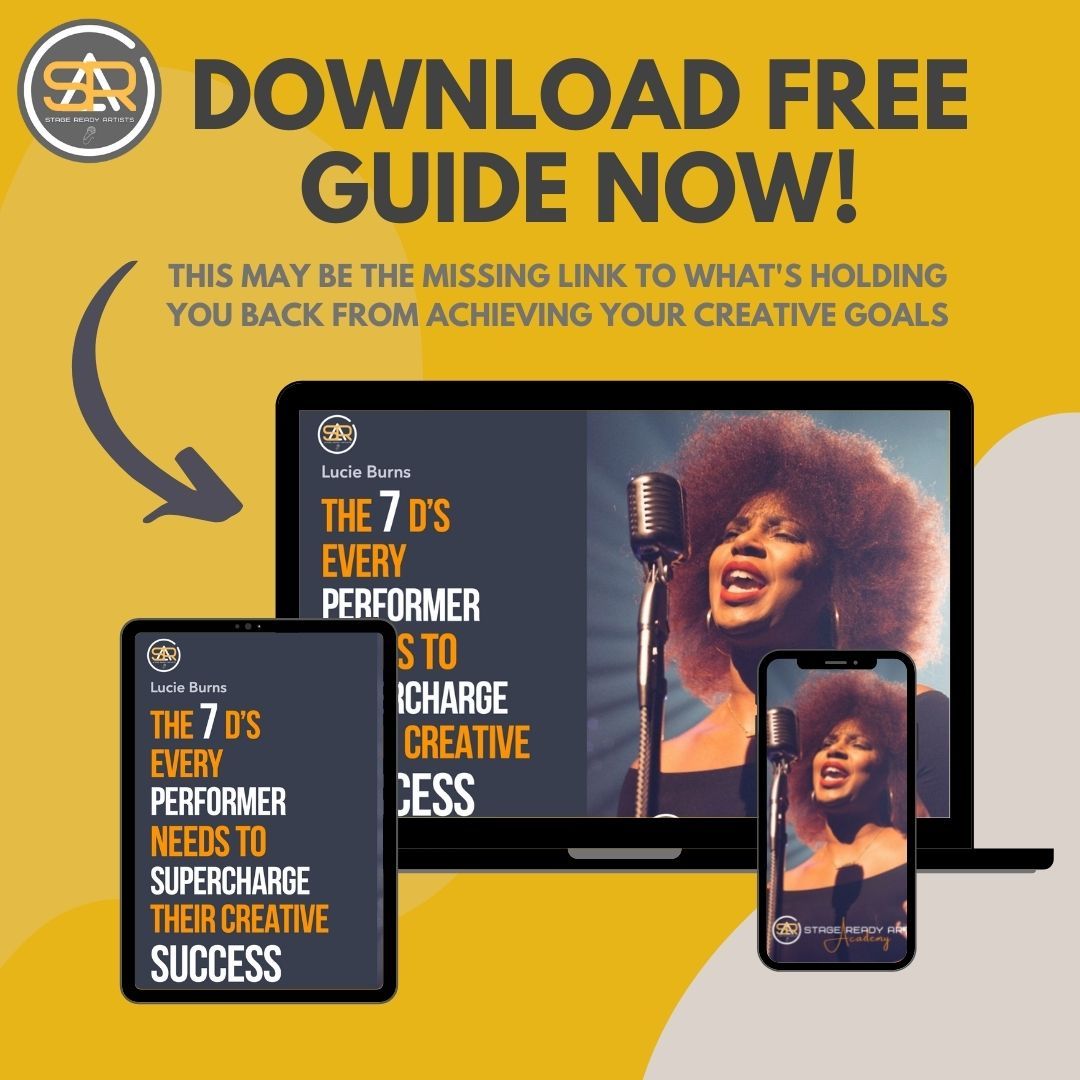 Welcome to our Artist Academy.
DOWNLOAD OUR FREE GUIDE

t
o help catapult your success.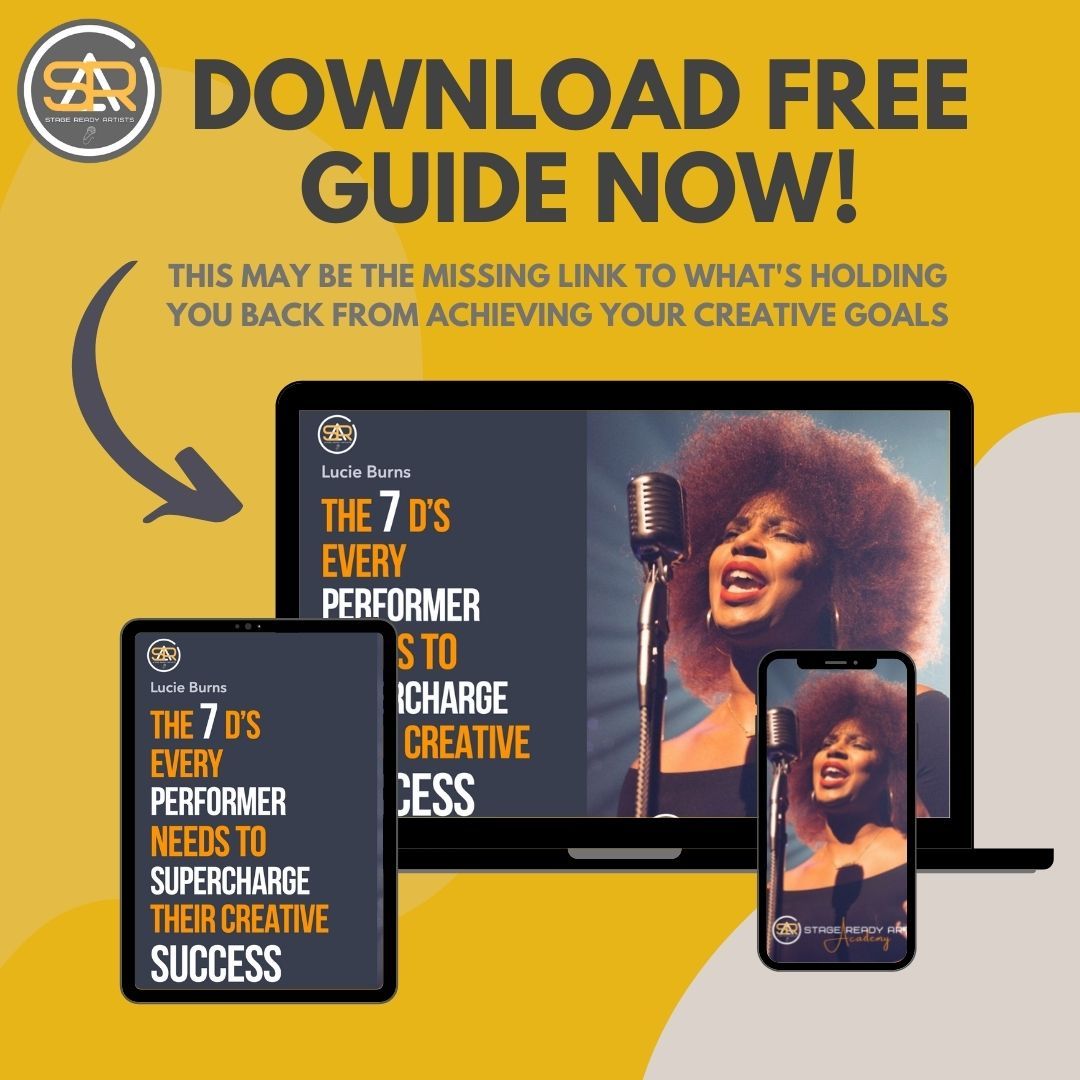 THE 7 D'S TO SUPERCHARGE SUCCESS
DOWNLOAD OUR FREE GUIDE
t
o help catapult your success.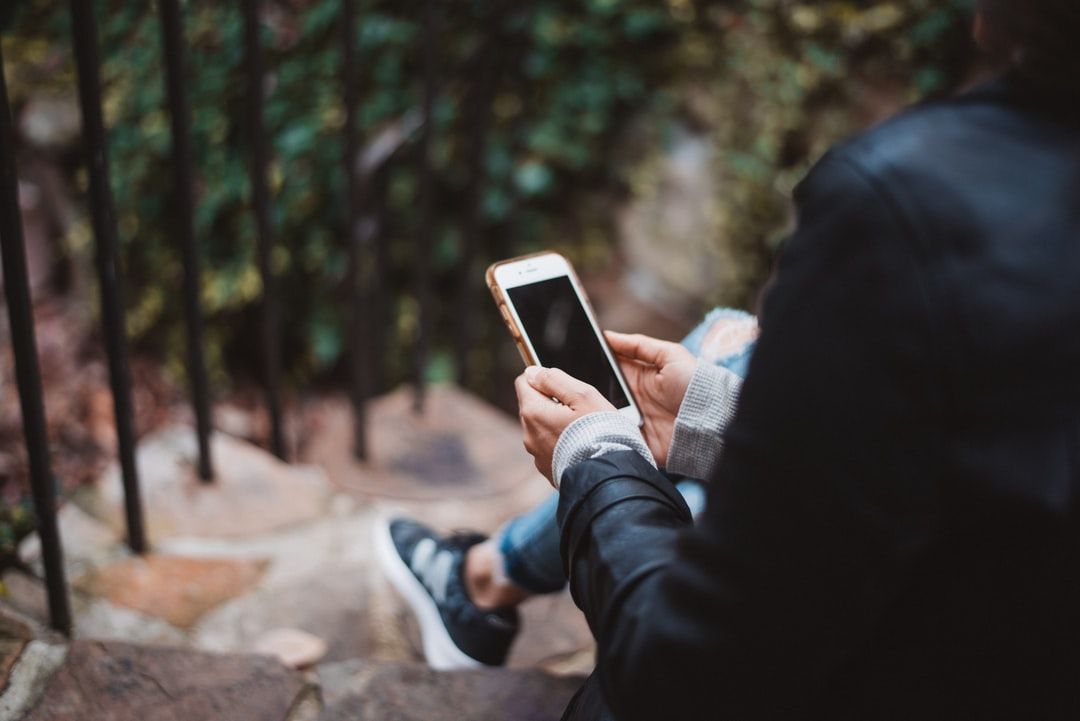 SIGN UP NOW
Be the first to know about our future courses

Created with